One of the first departments that get a haircut when facing a recession is the marketing department, but this is one of the last things credit unions and community banks should be doing.
As Harvard Business Review wrote as the world was clutched in the depths of the Great Recession, "This is not the time to cut advertising. It is well documented that brands that increase advertising during a recession, when competitors are cutting back, can improve market share and return on investment at a lower cost than during good economic times. Uncertain consumers need the reassurance of known brands–and more consumers at home watching television can deliver higher than expected audiences at lower cost-per-thousand impressions."
Credit unions, in particular, should take advantage of these 'bad times.' Because of your not-for-profit status and volunteer boards, you have no one to please other than your members. (OK, some might say the regulators' but that's another blog entirely.) Use your countercyclical business model to grow market share even greater than we have in the last decade of rapid growth!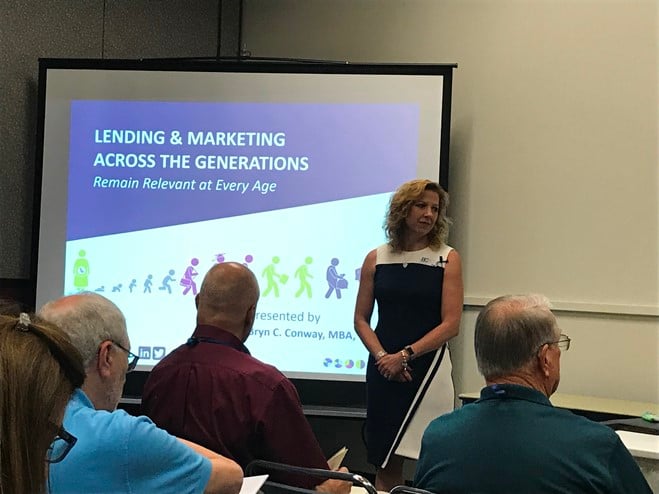 GDS Link's Marketing Services solutions can help you reach finely targeted consumers. Click here to learn more about how NUFCU found success!
Dr. Elliot Eisenberg of Graphs and Laughs shared during the MDDCCUA Annual Meeting earlier this month that consumer spending is good, government spending is weakening but still good and overall, so it's difficult to see a recession on the horizon. That said, he put the likelihood of a recession at 35% to 40% chance by 2020, and even then, it would likely be mild due to other positive factors in the economy.
Even as consumer debt rises, it's nothing like the 2007 housing crisis, in which nefarious lenders made loans based on underwriting that was beyond questionable, Eisenberg explained. Auto loan defaults are growing, but the primary culprits are finance companies getting deep into nonprime loans, not banks and credit unions.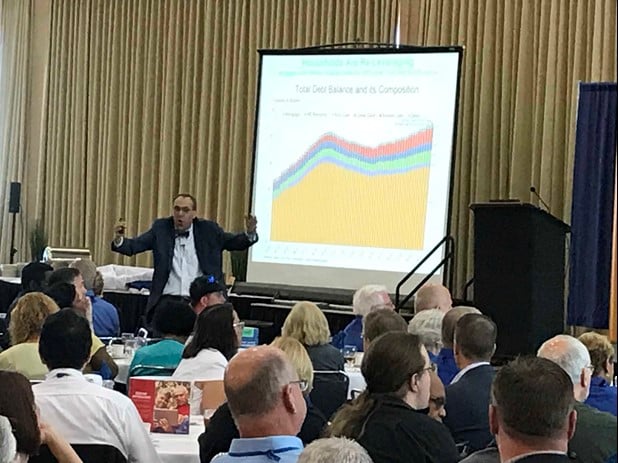 Eisenberg added that rates won't be doing credit unions any favors on their net interest margins, because the Fed is unlikely to raise rates to avoid a yield curve inversion, often a precursor to recession. However, the Fed also can't afford to drop rates until they have to, because it only has a couple to play with. Geopolitical issues, such as potential automobile tariffs, the federal budget and the debt ceiling, could be what tips the US into recession.
Read up on GDS Link Marketing Services today!
Don't let that scare you out of the opportunities that lie in a recession! During the last recession, Harvard Business Review suggested:
Take a we're-going-to-get-through-this-together approach to marketing messaging.
Low-cost, value brands, such as credit unions, tend to perform well in recessions.
Understand consumers and how their perception of value shifts over time.
Focus on family values as people retreat to the place, people and things that provide comfort.
Maintain marketing spending, but reforecast product demand to shift investment.
Adjust pricing tactics, such as sprinkling in short-term discounts.
Emphasize marketshare, which credit unions can afford to do as not-for-profits.
Credit unions are countercyclical, because you only have to serve your members. All of your members, and that means messaging should be different for people in different phases of their financial life's journey.
Our strategic partner, Open Lending recently rant an interesting blog, Boomers Have More to Offer Credit Unions' Auto Loan Portfolio Than You Might Realize , explaining their sphere of influence regarding auto lending. Don't count this generation out! They control 70% of disposable income in the US, they have good credit and they're not afraid to borrow, according to BC Strategies CEO Bryn Conway . Target them with classic cars to remind them of their youth, and because they spend 28% more on cars than Gens X and Y combined! They're all about experience over pricing.
Conway also spoke at MDDCCUA, and she pointed out that we often hear that millennials aren't borrowing; maybe they weren't at one time, but they are now. Some of the usual milestones of adulting may have slowed because of massive student debt, but she predicted that pent up demand is about to burst. Cars and homes are the products to serve up to this generation, and they particularly like following referral advice from friends and family. Treat their Gen X parents and boomer grandparents right, and you'll have a better chance at their business. Additionally, Gen Y does not carry much cash, but prefers credit cards with robust rewards programs. This generation also responds best to direct mail – you read that right – so hit them up with a direct mail campaign, plus digital and social media marketing. GDS Link can help! Contact us today!
Gen X may be small, but they, too, should not be neglected. Gen X is generally skeptical, so messaging must be transparent. Conway explained that age 54 is when you spend, earn and save the most, and Gen X is not particularly brand loyal, so they're the perfect target for auto loan recapture campaigns and home refinancings.
The economy could be heading for a slowdown, but your credit union doesn't have to! Use what you've got to your advantage: tons of data on your members, a personal touch, and countercyclical business model that is a recipe to more than weather the storm.
Book A Discovery Meeting
Find out if
GDS Link
can help you
REQUEST A DEMO
Need a consultation?
Our team of
experts is
standing by
SCHEDULE NOW